These days, we're finding our kids are caught somewhere between Disney and ADULTING; our children are TWEENS. It's a delicate balance helping them remain young at heart, yet letting them spread their wings a bit with new boundaries. And when it comes to Christmas, we're challenged to find new ways to keep the spirit alive with a new found, more mature joy, that doesn't necessarily involve a jolly old man from the North Pole. There will always be traditions that are non-negotiable, but we're learning to put a new twist on our family festivities.
Here are 15 ideas that may help your family in the space beTWEEN:
ASK THEM
Shortly after Thanksgiving, we create a simple "CHRISTMAS BUCKET LIST" (aka a piece of white paper on a clipboard… bonus points if you use a red and green marker). Anyone in the family is free to add to the list. Indeed, some ideas are far fetched and AIN'T HAPPEN'N (sorry kiddos, we can't turn a trip to see the Northern Lights in Iceland quite that fast) but by far, we've been impressed and often surprised with the things our kids have come up with. Their wish list items also tend to be very simple which is refreshing and takes a lot of pressure off us to try and create new experiences they may not even appreciate. We would have never realized walking to our local coffee stand Christmas Eve morning all bundled up is now considered a tradition to them.
ENLIST THEIR HELP
We've found that when our kids PARTICIPATE in all things Christmas from decorating and baking to shopping and wrapping, they appreciate it more. Let them help decorate the house and the cookies, make them part of the Christmas card assembly line, put a camera in their hand to be extra photographers (you might even be in the album this year!) and for the love, let them take turns hiding the Elf on the Shelf! This has quickly become a blessing instead of a curse since we now only manage our friend from the North Pole, Hermie, every 3 days. They kids like being creative and sneaky when it's their turn to hide him.
GIVE THEM SCISSORS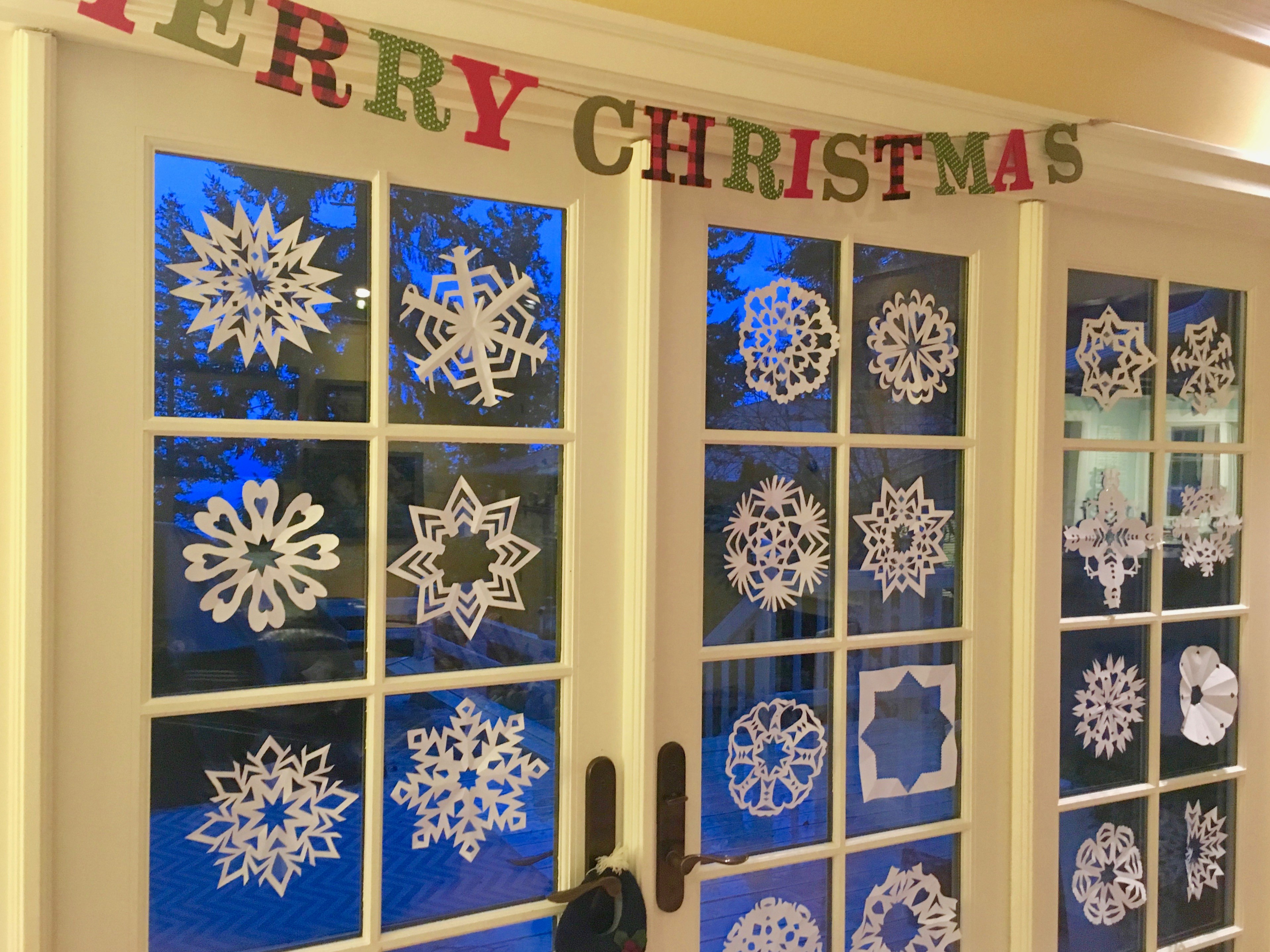 For a few years now, we have turned our windows at home into a paper snowflake art gallery. There's no need for perfect, fragile, or expensive Christmas décor when you have a ream of paper and some sharp scissors. Our creations tend to be as creative (or lack their of) as we are and there is never two the same. If you're really feeling it, hop on Pinterest for a plethora of snowflake templates from anything Star Wars (i.e. have you ever tried to make an R2D2 snowflake?) to more classic shapes. We turn up the Christmas tunes (usually a playlist we've curated over the years of favorites we can shuffle through), make some hot cocoa or hot buttered rum depending on the age, grab the recycling bin (for scraps) and have at it. Be sure to save room in your gallery for any friends and family that want to add to it! We cannot tell you how many people we've had over that have said "It's been YEARS since I made a paper snowflake!" We hand them scissors and they too, are now part of our tradition.
CHALLENGE THEM
We're not saying we're the most competitive family on the block but we loooove some good clean fun in the form of a friendly competition. How tall can you build a tower made solely with gumdrops and toothpicks? Who can create the best gingerbread house? Who can complete a Christmas photo scavenger hunt first? How about some "Minute To Win It" games, Christmas edition? Family game night? You bet! We are ALL IN! It probably goes without saying as well, but the more the merrier.
STAY HOME
One of our biggest AH-HA moments as a parents was realizing the number one thing our kids wanted to do most was have a "jammie day". Pure and simple, our kids needed the freedom to Just. Be. Lazy. In our culture of cramming as much festivities as humanly possible in a short amount of time, what they craved was the license to do as they so chose without having to be on anyone else's schedule or clock. We try to carve out a day when none of us have anywhere else to be so we literally stay in our jammies ALL DAY (cuts down on laundry too!). As such, we have adopted the sloth as our spirit animal and a state of mind (#slothing).
GIVE (aka Spread Joy)
Perhaps one of the greatest life lessons, especially at Christmas, we hope to teach our kids is that it doesn't take much (or anything at all really) to make someone else's life just a little bit more awesome. If you don't have extra financial resources use your time… or vice versa… both are equally as important. There is no shortage of toy drives, foster families, giving trees in need during the holidays. We have "adopted" children close in age to our kids through Compassion International and participate in Operation Christmas Child every year but here are a few more ideas our kids can manage:
Be a good neighbor: Help with garbage cans, mail or newspapers, deliver cookies or extra soup, or sweep their walk and driveway after a wind storm.
Volunteer at a local food bank together or make a meal for a shelter. We often work 2 hour shifts packing whatever food is needed at the warehouse or try to supply one meal to a local women's shelter a few times a year. (Use our MK Act of Kindness Guide for local ways to give.)
Help a girl out (or boy). Offer to help occupy little ones in another family to give mom and dad some much needed time and respite.
BREAK A SWEAT
There are only so many "jammie days" we can all handle before we all get a little stir crazy at which point we need to be ACTIVE.This might look like a walk to the park with a soccer ball (via the local coffee stand), a hike (also known as a "walkabout" depending on the elevation gain), a day on the slopes, a trip to Defy (worth every penny we have!), shooting some hoops (either in the driveway or at the gym) or an indoor soccer tournament. We know many families that have also made a tradition out of various organized "Jingle Bell Runs" for a good cause… for which we will raise a glass to them. But as for us, we are content sending out the Bat Signal to our local tribe in hopes they can meet us at the park in the spur of the moment to come play. (Use our Mac Kid Local Park Guide for inspiration.
GO FOR A NIGHT DRIVE
Stay with us here. Once upon a time our kids were content driving in circles within a 3-mile radius of home for the sole purpose of looking at pretty Christmas lights (we may or may not have also used this guise to put them to sleep a time or two as toddlers). To up our game, prevent Frosty The Snowman on repeat and avoid eye rolls for the tween years, we've added a few aspects to make it more appealing and even more fun.
First, we all take a turn being the Guest DJ (all hail Spotify!). We literally pass the phone around the car (except for the driver OBVIOUSLY) and take a turn cueing up the next song. This ensures everyone gets to hear their favorite Christmas songs and it creates variety (please note: this has gotten us through many long road trips as well). Second, we have introduced our kids to the art form known as "Ding Dong Ditching". Please know there was much planning, prep and recon to ensure this was carefully orchestrated as good clean and safe fun with families we know in an effort to deliver a little Christmas cheer (in the form of Hostess Ho-Hos and Ding-Dongs…see what we did there?). We had a BLAST! We all took our roles very seriously as the get away driver, spotter, ringer and runners. A note of caution: many families now employ Ring or Nest technology so you need to plan accordingly… and take flashlights.
DOUBLE DATE
Every once in a while, we divide and conquer. My husband takes our daughter shopping and out to dinner while my son and I usually end up at a movie theater or the Lego store after a more casual dinner that involves chicken nuggets or butter noodles (a simple man with simple pleasures). It allows me to brush up on all things Star Wars while my husband is introduced to the world of VSCO and TikTok. Quality Time is a love language we all speak to some degree and we make it a priority during the holidays. The kids get to pick what they want to do and where they want to eat (within reason); we have yet to be disappointed by their choices. It's also an awesome way to show them what a date SHOULD look like and how to act like a gentleman and respectful young lady.
STAYCATION VACATION
If you can swing it, by all means, change up your scenery. As much as we love vacation or seeing our friends enjoying some sunshine in tropical destinations during winter break, we prefer to be HOME FOR THE HOLIDAYS. Full disclosure: We tried a Hawaiian vacation right after Thanksgiving once and we were all completely thrown for a loop seeing a half naked Santa in board shorts riding a surf board pulled by sea turtles. Thank you, no. Instead, we like to find a day together where we can hop on the train downtown just to take in all the sites and sounds of the holidays the city has to offer! Being a tourist for the day in our own town is one of our family favorites especially if it includes a festive theatrical performance. We pretend like we are in a foreign city but are more than happy to be comfortable in our own beds when our heads hit the pillow that night.
GIVE THEM AN APRON
We let the kids pick a recipe or a meal and turn them loose in the kitchen (they need to learn proper knife skills at some point, right?). We also pick one night during the holidays to turn our average weeknight meal into something special complete with fine China and linens. You've never experienced spaghetti until you've had it by candlelight served to you by your children on a silver platter; turns out even ice water tastes better out of a crystal glass. We've also been known to take a local cooking or baking class with a festive theme a time or two, which is a fun way to learn a new skill or recipe. We also have a whole list of favorite Christmas treats along with their recipes and a grocery list that we try to bake and share throughout the season. Bon appetite!
WATCH A MOVIE
It's not uncommon to find our family on any given Friday night huddled on the couch around a bowl of popcorn watching a movie. But during the holidays, it takes on a whole new level and new twist. We create a list of our family favs ranging from Christmas Vacation to Hallmark specials and try to get to many as we can during our down time. There are plenty of free movies on TV, on demand or you can borrow from the library. Tip: hit up the Dollar Store for candy before hand and you'll be a hero. Pass the Junior Mints and Gummy Bears! It's worth noting too that we love the whole movie theater experience just as well complete with buttery popcorn and Slurpees (bonus: there's matinee pricing at a 10am showing when we're on break before the mall because too crazy)!
SPA DAY
Sometimes we just need to de-stress. On occasion we turn our bathroom into a day spa and the whole family gets pampered. Get comfy, light some candles or fire up essential oils and dive into facials and mani/pedis all around. The fellas certainly don't pick any hot pink nail polish but even they benefit from having healthy hygiene habits. This is also a great opportunity to make sure your kids are properly using Q-tips on a frequent basis and brushing properly.
CREATE OR CRAFT
We encourage using a different side of your brain as often as possible; with extra time during Christmas break, it's a perfect time to try something new.There are COUNTLESS ways to be creative! Color, draw, paint, engineer, design, write, weave, wood burn, bead, stencil, sew, build, knit, etc. Even those born without The Craft Gene can find easy projects galore online (i.e. polar fleece blankets tied with knots) or find crafts kits that are sold with all materials and step by step instructions. Even Mother Nature is an excellent free source of creativity. We like to let the kids have a buddy or two over while they're crafting for twice the fun.
BUY THE PIZZA
Since the day our kids were born, we've had a goal: "Be the ones to buy the pizza". Essentially, we want to be the house our kids and all their friends crash at and we hope they feel at home enough to open our cupboards or fridge to help themselves. Here's the most glorious part of raising TWEENS: The older our kids get, the less we need to be planning anything at all. They simply want UNSTRUCTURED SOCIAL TIME with their friends and left to their own devices, they tend to entertain themselves! We've spent 10+ years instilling the idea of appropriate boundaries, thoughtful decision making, taking responsibility for their actions, appreciating shared values, being respectful and helping them to keep their moral compass facing north. Now, our roles have slowly transitioned from play-date-organizers to Uber drivers and bankers… and we're okay with that. That means we've done a decent job giving them roots and wings and that's all we can ever hope for. So we buy the pizza and love seeing our kids flourish in the next chapter of life.
Merry Christmas to you and yours from me and mine in the space beTWEEN!
Find your family fun® with Macaroni Kid!
SUBSCRIBE for your FREE Calendar of LOCAL kid & family friendly events!